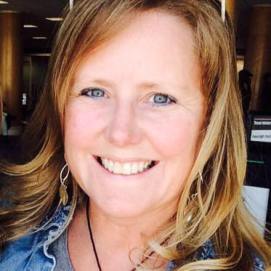 Dianna Stampfler
Author of 'Travels Beyond the Mitten'
Dianna Stampfler
Referred to as one of the most motivated, energetic and passionate tourism leaders in Michigan, Dianna has more than 30 years of professional writing experience dating back to her years at Plainwell High School.
By the time she graduated, Dianna had a weekly column in the local paper and was broadcasting news at a local radio station (following in the footsteps of her father, who has been broadcasting for more than 55 years).
She went to major in English (with emphasis in community journalism) and Communications (with emphasis in broadcasting) at Western Michigan University. Later, she taught journalism at Otsego Middle School and was a board member of the Michigan Interscholastic Press Association, before losing her position in a valiant battle in defense of the First Amendment.
Her freelance writing appears in each issue of Michigan Blue Magazine. She's also been published in Michigan: The Great Beer State, MiBrew, Pure Michigan Travel Ideas, West Michigan Carefree Travel, Michigan HOME & Lifestyle, Grand Rapids Magazine, Grand Rapids Family, Michigan Meetings & Events, Michigan Wine Country, Country Lines, Tasters Guild International Journal, AAA Michigan Living, Experience Michigan and Lake Michigan Circle Tour Guide and other publications. She's also an established blogger, contributing to a handful of sites on a regular basis.
In August, 2004, Dianna left her esteemed career at the West Michigan Tourist Association to launch her own PR consulting company: PROMOTE MICHIGAN. While her heart and soul belong to the Great Lakes State, her passion for travel often takes her beyond the boundaries of the mitten to locales around the United States (and occasionally, beyond).
An avid reader, Dianna is currently consumed by the works of Ernest Hemingway–who spent the first 22 summers of his life on Walloon Lake in northern Michigan (not far from where she currently lives). Her love of history, natural resources and the culinary arts fuel her current travel aspirations with destinations like New Orleans, Key West, Tuscany, Greece and the UK on the top of her bucket list.