Visiting the quaint Chicago suburb of Oak Park has been on my bucket list ever since I read the novel Loving Frank back in 2007. That book opened up a world about this esteemed and often controversial architect Frank Lloyd Wright. I followed that up with The Women and I became fascinated not only with his work—including researching where in Michigan his unique style homes stood, but also his personal life.
A few years after that, I became enthralled with another artistic, award-winning and intriguing man from Oak Park—Ernest Hemingway. Once I moved to the Petoskey area where Ernie spent his early childhood summers, my casual interest turn to borderline addiction.
Have you ever been asked "if you could have coffee, dinner, drinks, etc., with anyone in history – past or present, who would that be?" I have a short list and both Wright and Hemingway are on the list!
So, back to Oak Park. My trip was planned around a play at the Goodman Theater in downtown Chicago called Pamplona, a one-man show starring actor Stacy Keach as Hemingway. Having missed it last summer when the show was cancelled due to Keech's health (he had a heart attack on opening night and the show was cancelled), I jumped online to buy tickets for this summer's rescheduled show. As a bonus, the trip would no longer be solo as it likely would have been in the summer of 2017 having "convinced" my favorite traveling companion to join me (and by that, I mean offering to pay travel expenses).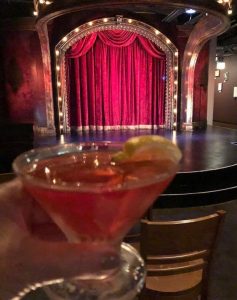 We arrived in downtown Chicago on Friday afternoon settling into the Hampton Inn West Loop briefly before our whirlwind weekend. After a quick change of clothes, we hailed an Uber and made our way to Up Town for a unique burlesque show at the Uptown Underground. It had been recommended by a couple friends who frequent Chicago, and it provided a great way to unwind after the long drive. Seeing a live show like this was also on my bucket list—ever since the 2010 movie Burlesque starring Cher, Christina Aguilera and Stanley Tucci. While the show we saw was entertaining, it was not nearly the flamboyant theatrical display that I had envisioned in my head. Perhaps I'll find that at another theater in the future—maybe in New York City (it was on my bucket list when I visited there in 2015, but unfortunately my limited 36-hours didn't allocate enough time).
Having not had dinner before the show, we were famished after and found ourselves at a quaint Italian place with al fresco seating—ideal for a warm summer evening — called Dinotto, in Old Town. The burrata salad, Margherita pizza and carbonara were all mouthwateringly delicious paired with a hearty Cab Franc. And, as a bonus, the Up Town Cigar Shop (which was what brought us to this neighborhood in the first place) was right across the street for our nightcap smoke (minus a drink, as we learned too late that it was BYOB).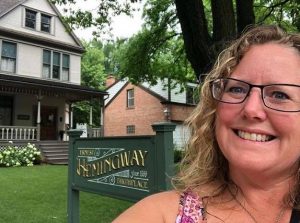 Day two, we were up early and on the road to Oak Park about a half hour drive away. We were among the first to step inside the Ernest Hemingway Birthplace Home Museum at 339 N. Oak Park Avenue. It was in this massive Queen Anne home that Ernest Miller Hemingway was born on July 21, 1899 to Clarence and Grace (Hall) Hemingway. He was the second of six children to be born to the couple. Young Hemingway lived here for six years until the family moved a few blocks away to a new house at 600 N. Kenilworth Avenue.
Having already been to Key West earlier this year, walking the halls where the Nobel and Pulitzer Prize winning author had once lived was surreal and often-times inspiring. To stand in the parlor or library and imagine the family conversations that took place there or to walk the steps to the bedrooms where he slept, it really was something special. It was like being an invited guest into the family home. And, being able to reply with "Walloon Lake" when the docents asked where I was from and seeing their eyes light up knowing the Hemingway connection there made me feel proud.
With a bit of a break, we figured we needed to get at least one cemetery visit in during our trip. It has become a bit of a ritual for us no matter where we travel, to find the oldest or most haunted graveyard to explore. Nearby we knew of a Robinson Family Burial Ground—the final resting place of Alexander Robinson (Chief Chee-Chee-Pin-Quay), Chief of the Potowatomi, Ottawa and Chippewa Nations of the Indians.
The last of the Robinson's lived on the property until their farm building burnt to the ground on May 26, 1955 and less than five months later, three teenage boys were murdered nearby, their bodies discovered in a ditch along the road. All three had been stripped naked and strangled to death. Soon after, paranormal things started happening around the woods—day, and night! Kenneth J. Hansen, the man responsible for the killing the boys, wasn't charged until 1994. He was later found guilty, sentenced to 200-300 years and died in prison. The strangest thing we saw was a crazy squirrel who followed us around the park, even out to the truck when we left.
From there, we made our way to the Frank Lloyd Wright Home & Studio, where we took a guided tour of the elaborate and intricate home. I've only been inside a couple FLW homes previously, most notably the Meyer May House in Grand Rapids (where I toured on a rainy day, getting lost in the elegantly simplistic rooms for upwards of four hours before I forced myself to leave). Oak Park is like a living museum to the designer and architect, home to the world's largest collection of FLW-designed buildings, with 25 structures built between 1889 and 1913.
As we followed our guide from room to room, floor to floor, you were amazed to learn of the early innovation and design concepts that Wright put into this home—a testing ground of sorts for what would become some of the most recognizable architecture in America. Walking through the studio, you could almost hear the sound of pencils on paper and quiet banter of the craftsmen who worked side by side in this wooden haven of creativity. As with Meyer May, I felt rushed on the tour…in that I felt I could stay there forever just gazing at the many elements within each room and never really see it all…really, see it!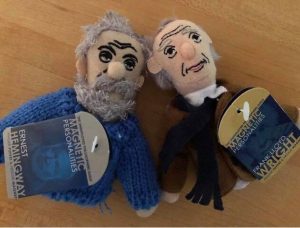 A quick stop at the gift shop for a FLW finger puppet (to go with the one I have of Hemingway, of course) and a souvenir coffee mug (like I need another), we walked through the Wright neighborhoods and noticed the various design styles. In most cases, you could simply look at the home and just know it was one of his masterpieces.
After a quick nap and shower at the hotel, it was off to dinner and then the Pamplona show at the Goodrich. There we sat in the front row of the second tier of the theater (stage left) and I found myself leaning over the edge of the railing many times just to try to get closer to Papa. I hung on his every word, many stories familiar especially those having to do with Ernie's first wife Hadley Richardson who he married in Horton Bay in northern Michigan in 1921. Stories of his second, third and fourth wives (Pauline, Martha and Mary) and his struggles with writer's block and alcoholism were woven in with nuggets of history and conjecture.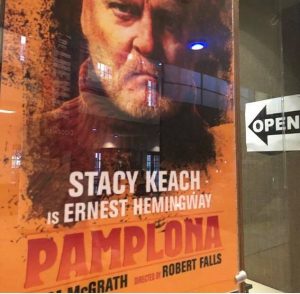 I would have willingly sat there to watch the entire show all over again, enthralled at how Keach portrayed Hemingway. How real it all seemed. I later learned, that this was not Keach's first time playing the author. In 1988, he was part of a six-hour film biography called "Stacy Keach as Hemingway" that aired on national television. I've yet to watch it, as finding it on DVD has proven to be quite a challenge. I was so taken with the Pamplona show that when we return from Chicago, I was compelled to write a letter to Keach, sending it to him in care-of the theater, where I told him how much I enjoyed his performance. If only I had received a response back. Who knows, maybe the letter never made it to him.
After the show on Saturday night, we jumped in an Uber and again headed up town to visit two historic murderous sites. Yes, I know how morbid that sounds…but as a student of dark tourism, I find such locales fascinating for their historic value.
The first stop was the alley next to the Biograph Theater at 2433 North Lincoln Avenue, near Lincoln Park, where on July 22, 1934, gangster John Dillinger was gunned down by FBI agents after watching the film Manhattan Melodrama. Newly paved, there was no evidence of what had taken place there 85 years prior.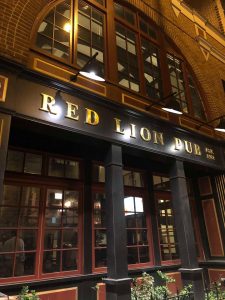 After snapping a few photos, we made our way across the street to the Red Lion Bar for a couple cocktails. We had recently learned that this historic tavern was on the list haunted places in Chicago and we began to ask the bartender if he had had and the ghostly experiences. He confirmed that the site was haunted and then introduced us to the proprietor, Colin Cordwell, who told us to ghost is that of his father, John. In fact, we were told the dad makes regular visits to the bar. We chit chatted more about our respective book projects and about Dillinger, to which the barkeep said that the gangster would frequent the farm market that was in that building when he was in the neighborhood. For more, check out Colin's book – "Tales from the Red Lion".
Next was a mile-long walk to the site of the St. Valentine's Day Massacre at 2122 N. Clark Street (the location of the former S-M-C Cartage Company). On that bloody day in 1929, seven men associated with the Irish gangster George "Bugs" Moran – one of Capone's noted rivals – were shot to death by several men dressed as cops. Capone was never officially tied to the murders, but he is widely believed to be the man who ordered the hits.
The site today is just a vacant plot of grass, situated between two buildings in a small, quiet neighborhood. To one side was I believe a senior citizen home which when we passed by displayed some unusual activity. The outside light near the entrance door would flicker when we got within a certain distance to it and would stop when we walked away and start back up when we walked back. Of course, we caught it on video and attributed it to the ghost from those killed on February 14, 1929.
Sadly, we ran out of time and weren't able to visit the site of the "Murder Castle" where during the 1893 World's Fair (known at the time as the Columbian Exposition) H. H. Holmes (a.k.a. Herman Webster Mudgett) was believed to have murdered countless people.
According to The History Channel, "He purchased an empty lot in the Englewood neighborhood of Chicago and built a labyrinthine structure with shops on the first floor and small apartments above. This edifice became Holmes' booby-trapped Murder Castle. The space featured soundproof rooms, secret passages and a disorienting maze of hallways and staircases. The rooms were also outfitted with trapdoors over chutes that dropped Holmes' unsuspecting victims to the building's basement. The basement was a macabre facility of acid vats, pits of quicklime (often used on decaying corpses) and a crematorium, which the killer used to finish off his victims."
The building is of course long gone, but it would have been grotesquely fascinating to walk past the site where today I believe a post office stands. This just means we get to travel BACK to Chicago to visit this, and other sites we missed (and, Holmes has sparked another road trip we have planned for next summer heading out to Holy Cross Cemetery in Yeadon, PA, where the serial killer is buried).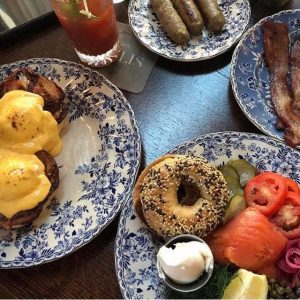 Sunday started slow, as one would expect. After a lovely brunch at The Allis, just a couple blocks from the hotel. I had been craving bagels and lox, with a mimosa, and I was not disappointed…the eggs benedict were also spot on, both served on floral French-inspired plates as we sat in comfy library chairs beneath elegant chandeliers. The eclectic atmosphere of the reclaimed building gave off a trendy, millennial vibe – and even though we are clearly NOT in our 20s, it was a comfortable and enjoyable experience.
With time running out, it was back to Michigan…but not before stopping at the haunted Bachelor's Grove Cemetery in Midlothian, where rumored ghostly activity has been reported for years. According to the trusty Wikipedia, "The site saw its first official burials around 1840 and contains 82 plots, many of which were never sold or used. Burials, however, possibly go back as far as 1834, when German immigrant workers killed while working on the Illinois and Michigan Canal were reportedly laid to rest at the site. The site is often reported to have been a dumping ground for victims of Chicago's organized crime families of the 1920s and 1930s (including Al Capone), but no evidence of this has been proven."
Two of my bucket list trips, with ties to Hemingway, have been crossed off my list this summer! I still have hopes of getting to Frank Lloyd Wright Fallingwater in Pennsylvania — maybe when we take that road trip to the Holmes grave, along with "poets and presidents tour" that I mapped out years ago (inspired by a trip to my family took around 1980 to Gettysburg and Monticello, researching our family tree).