Earlier this summer, my kids made a request to spend Christmas in a warm locale…preferably Florida…instead of spending money on presents, a tree, dinners out and other holiday expenses. Excited that they are embracing newfound love of travel, I was game and we began asking friends and searching online for the "perfect" place where we could all enjoy a few days of sun and sand.
We landed on Anna Maria Island, along the Gulf of Mexico and Tampa Bay, in central west Florida. After a lengthy search on AirBnB, we found the PERFECT vacation house called Mermaid Cove. With five adults, we needed a house with at least three bedrooms and three bathrooms, plus given the time of year and the recent episodes of Red Tide, we wanted to have our own pool and hot tub for relaxing.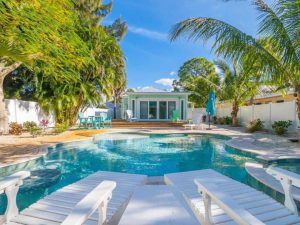 Now, I haven't taken many out-of-state vacations with my kids – in fact, the most recent had been in 2008 when we drove to the Washington DC area to visit family and friends over spring break. This Christmas trip was the first time we'd all flown together – my kids, plus their significant others. An adventured awaited us, at least for 4.5 days.
It was late afternoon when we landed at the Sarasota-Bradenton airport, ironic since my great grandmother (who passed away days after my daughter was born), spent her winters in Bradenton. We grabbed our luggage and loaded up the rental car for the short drive to our island oasis.
The minute we walked into our rental house, we knew we had scored big. It was even better than the online listing portrayed. Painted mint green, it appeared to have been recently remodeled and was simply adorable. From the layout to the décor to the outside entertainment spaces, it was simply adorable. Seriously, I can't say enough wonderful things about it (and as I posted pictures online during our stay, more than a dozen friends asked for the link to the house to know more about renting it for themselves).
By the time we settled in, it was "Happy Hour" time so we loaded back in the rental car and drove through the neighborhood until we saw someone strumming a guitar and singing out on the patio of Harry's Grill were we noshed on fried green tomatoes, fried pickles and bacon wrapped shrimp. While we were there, a couple from Indiana sat down at the table next to us and before long we were chatting about Michigan craft beer and Michigan colleges. What a small world.
One of the perks of renting a full house, especially with a group of people, was being able to buy groceries and cook some meals, snacks and drinks at home. We made our way to the Winn Dixie (a place I had only known about due to the movie, "Because of Winn Dixie" starring Michigan's own Jeff Daniels). After downloading their mobile app (for discounts of course), we made our way through the store stocking up on produce, bread, coffee, milk, meat, fish, eggs, beer and wine.
Back at the house, it was a group effort to chop vegetables and meat for grilled shish-ka-bobs and of course, fresh fish. One of the perks of this house was the outdoor spaces, complete with a gas grill and covered table area (with a TV and ceiling fan). It makes my heart happy to see how much my kids enjoy cooking, each contributing to make a wonderful meal for all. After clearing the dishes and some time in the hot tub, we all crashed for the night.
Day two started with a walk two blocks to the local farmer's market (after coffee of course). Although the number of vendors was small, we did find some great things for that night's dinner including fresh made ravioli, pasta sauces, a variety of wild mushrooms and more vegetables. While there, we noticed a sign for a free movie in the park the following night (which we later learned was The Santa Claus, a family favorite). Unfortunately the weather on Wednesday turned out to be too chilly for us to partake…but it sounded like a good idea at the time.
Day two was pretty casual…we walked the beach along Tampa Bay searching for shells, walked through some of the local shops and finally made our way to the Anna Maria Island Beach Café (on the Gulf of Mexico) where we gorged ourselves on a seafood platter of fish, fried clams and shrimp, as well as fish tacos. We sipped on beer and beachy cocktails before heading back to the hot tub and a much-needed nap (that is, until Happy Hour).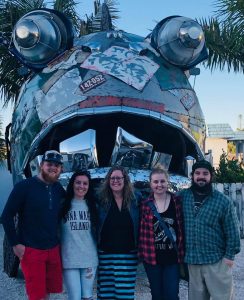 During our drives back and forth between the grocery store (Publix this time) and the house, we were intrigued by a place called The Ugly Grouper…so we set our sites on their outdoor patio (with heaters) for our afternoon imbibing. It was just after 4 o'clock so there weren't many people there when we sat down and ordered a round of appetizers (even though we really weren't hungry, my son insisted on Cajun fried gator bites and fried zucchini) as well as island cocktails and beers.
I opted for the "Beach Babe" which is made with Skyy Pacific Blueberry Vodka, raspberry liquor, cranberry juice, sweet & sour mix and a rum floater. Somehow my kids had never heard of a "floater" so I educated them about this added shot of liquor poured on top of the drink – something I'd come to love during my many visits to The Pink Pony on Mackinac Island.
About that time, a gentleman standing behind us in the bar area apologized for "eavesdropping" but said he had to speak up because he was familiar not only with Mackinac Island but The Pink Pony – having worked there back in the early 1990s. In fact, he was FROM Michigan (again, small world). We chatted about our home state and I began throwing out names of friends I knew from the island and Pony…and to my surprise, they were friends of his as well. We exchanged cards and he said he'd reach out when he was back the following summer – saying he was going to be in the Harbor Springs area (not far from where I live in Walloon Lake) looking at property. We agreed to meet for a drink at another local hangout, where one of our mutual friends works as a bartender!
Day Three (Wednesday) was pretty similar until dinner time, when we made our way to The Sand Bar, one of the eateries recommended by multiple friends (and ironically the name of the restaurant where my daughter works in Michigan). We were not disappointed. We arrived early so that we could watch the sunset and were happy to be seated at one of the coveted beach tables (where the table and chairs are literally IN the sand). Over the years, I've instilled a love of food with my kids and the joys of sampling a variety of things off the menu. So, we began picking from the locally-sourced appetizers and sharable small plates. From squash blossoms to a farmhouse salad to zucchini ceviche. We loved this place so much that we came back the next day for a quick lunch (after searching for more shells and where I found my first sand dollar) – where we shared an order of delicious Grouper Tostadas.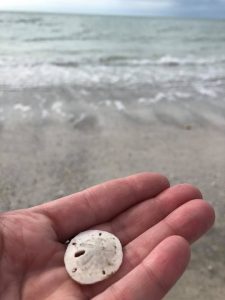 Thursday was a repeat…coffee, breakfast, hot tub, lunch, hot tub, nap, hot tub and dinner. One of the restaurants that had been recommended to us was The Waterfront Restaurant which was just a two-block walk from our house (toward Tampa Bay). It had been closed for two weeks while they remodeled the place, but luckily, they finished up for us to eat there on our final night. Again, we were not disappointed.
We were seated on the covered outdoor patio next to the fireplace, where we again enjoyed a variety of shared appetizers like tuna sashimi (wasabi crusted Ahi tuna, thinly sliced and drizzled with sweet soy, served on a bed of seaweed salad) and probably the best calamari (Kung Pao Calamari dusted in seasoned semolina, lightly fried and tossed with onion, feta and banana pepper in a sweet chili glaze) we've ever had in our lives. Main courses included rack of lamb, the Waterfront Waygu burger, warm kale salad with grilled shrimp, classic Caesar salad with Mahi and Mahi Salsa de Langosta (fresh Gulf coast fillet marinated in smoky ancho chilies and lime, char-grilled and served over a bed of purple rice
dressed with a warm lobster salad mixed with a chili vinaigrette).
Although we were stuffed from dinner, we did make our way to a local ice cream shop for a sweet treat to end the evening before walking back to the house for our final hot tub soak. Oh, I almost forgot to mention the heated games of Yahtzee where I learned that you get 100 bonus points for every extra Yahtzee that you get – contributing to my score of 547 one night!
With an early check out on Friday and rainy skies, we took the long way back to the airport traveling south through Holmes Beach and to Sarasota, where we killed time by visiting a coffee shop / bookstore and grabbing a quick lunch at a new place called Brewster's Tavern (owned by brothers Jacob, Curtis and Billy Brewster, who collectively have 35 year experience in the hospitality industry both in the Sarasota area and in Illinois) in the "The Historic Downtown Village of Sarasota." The kids then indulged me in my request for a cigar, cocktail and couple games of pool at Smokin Joe's before we made our way to the airport and finally home.
To say all we did was eat, drink, sleep and lounge in the pool or hot tub would be a totally accurate description of our short vacation in Anna Maria Island. Yes, I did work a bit (but can you really call it "work" when it's poolside with coffee or a cocktail).
For more of the photos from this trip, visit the FACEBOOK ALBUM