Rumor has it (according to my parents) that I visited Niagara Falls the summer of 1980 (between fourth and fifth grades), when we took a family road trip "out east" to visit historic sites, cemeteries, town halls and other facilities researching our family tree. I remember various parts of the trip – but not Niagara Falls specifically. And out of all the photos my genealogist father has stored in boxes and on his computer, there doesn't seem to be any from that trip.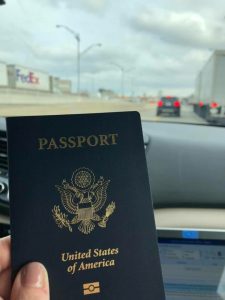 So, when the opportunity came up for a quick three-day trip the week of Thanksgiving, it seemed like the ideal time to check out this unique city and put my recently renewed passport to use.
We settled into our room at the Tower View Hotel overlooking a portion of the Horseshoe Falls—the largest of three waterfalls that collectively make up "Niagara Falls" along the Niagara River, on the border between the United States and Canada. At 2,600-feet wide and 167 feet tall (with a volume of 600,000 gallons per second – 90% of what these three falls generate). The Americans Fall is 1,060 feet wide and the smallest of the three is Bridal Veil Falls, tucked in between the two (closer to the American Falls). These two falls make up 10% of the flow from the river's volume.
By comparison, the Upper Peninsula's Upper Tahquamenon Falls are more than 200 feet across, with a drop of approximately 48 feet. During the late spring runoff, the river drains as much as 50,000 gallons of water per second, making the upper falls the third most voluminous vertical waterfall east of the Mississippi River (after Niagara Falls and Cohoes Falls, both in New York State). The Lower Tahquamenon Falls, located four miles downstream, is a series of five smaller cascading falls.
Given our trip was during the "holiday" season, we did get to enjoy nightly light shows, where rotating shades of red, blue and green illuminating behind the gushing water. We were too lake in the year for the "nightly fireworks show" and sadly, our hopes of taking a boat trip out closer to the falls after dark were squelched as that is also a seasonal offering. We did take a quick trip out one afternoon dressed in our bright red disposable ponchos which kept us mostly dry but certainly not warm on the 28-degree day.
Downtown Niagara Falls is built for families – much like Vegas tried to be many years ago with its excessive neon lights and attractions such as Ripley's Believe it Or Not, Hard Rock Café, Louis Tussaud's Waxworks (one of several such museums), Castle Dracula (one of many "haunted" sites), Rainforest Café and Strike Rock 'n Bowl (one of several arcades), along with an abundance if IHOPS (where two people can drop about $80 before tip on a simple breakfast with coffee and juice).
After a quick walk through the "loop" and a few games of pool, air hockey and skee-ball (with cocktails), we ventured off to grab dinner at one of the restaurants we were given coupons for (part of our package).
Vittorios Italian Eatery (previously known as Dagiorgio Italian Eatery, or visa versa) was "buried" in the lower level of one of the nearby hotels, we found the menu quite enjoyable. We ordered a bottle of "The Winemakers Secret Barrel Red Blend" from Chile while we perused the menu. We started with one of my favorites – beef carpaccio served with Muschio mushrooms, truffle ricotta, Parmigiano, arugula and lemon zest. For entrees, we selected the Rigatoni Bolognese and the charbroiled lambchops, dressed with rosemary olive oil and noted as their "chef's specialty.
Thankfully, we had a nice walk back to our hotel – as we needed work off all of that delicious food we'd consumed. The only downside was that Niagara Falls doesn't have any cigar lounges, as we are prone to enjoy post dinner.
Day two we escaped the bright lights of the big city in search of quaint small towns, shops and wineries! Our travels took us to Niagara on the Lake, reminiscent of some of the lakeshore towns in northern Michigan. This area is home to more than 20 wineries, many of which are very large and elegant.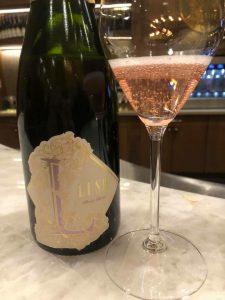 Our first stop was at Peller Estates, where we each sampled through small flights. Next, it was the award-winning Two Sisters Vineyard – named the "Best Small Winery in Canada" in recent years. I found several wines here that pleased my palate – and we even brought home a couple bottles including LUSH, a beautiful sparkling rosé which I'll drink as I ring in the new year.  We stopped by a couple other tasting rooms throughout the afternoon, sipping wines from a variety of vineyards including ice wine from NHL hockey player Wayne Gretsky Estates.
Niagara on the Lake really captured my attention, with its rows of eclectic shops selling confections, jewelry, art, clothing and home décor. We popped into a tiny bookstore, where I purchased a title about Martha Gellhorn, Ernest Hemingway's third wife (I bet you were wondering how long it would take me to bring up his name in this post, weren't you?).
Before heading back to the city, we decided to check out one of the town's "haunted" sites by grabbing a quick bite and a drink at The Olde Angel Inn. This English-style pub was established in 1789 ad rebuilt in 1815 after the War of 1812, making it Ontario's oldest operating inn. With just five guest rooms and three dining areas, the building really stands up to its reputation for cozy, small town hospitality.
Unfortunately, we didn't get to make the acquaintance of the resident spirit, Captain Colin Swayze. According to the inn's website, "there is a popular local legend (that shows up in accounts dating to the 1820's) of an unfortunate Canadian militia officer who was killed at the Inn during the American invasion of May 1813. Captain Colin Swayze had delayed joining the British retreat in order to rendezvous with a young woman, believed to be his true love. Surprised by American soldiers sent to search the Inn, he hid in an empty barrel in the cellar. The invaders used bayonets to prod into every corner and possible place of concealment and the unlucky lover received a fatal wound. Some believe the Ghost of Captain Swayze is fated to walk the Inn at night, perhaps in longing for his sweetheart. There have been reports of noises coming from the empty dining room, rearranged place settings, and other unexplained occurrences. It is said that his ghost will remain harmless as long as the British flag flies over the Inn, a precaution prudently taken by the proprietor."
We found a couple other spooky places to visit on our way back to the hotel, including the "Screaming Tunnel" – a small limestone tunnel running beneath what was once the Grand Trunk Railway lines. Wikipedia says "a local legend recounts that the tunnel is haunted by the ghost of a young girl, who after escaping a nearby burning farm building with her clothing ablaze, died within its walls. Several variants of the legend exist locally, one version has the girl set on fire by her enraged father after he loses custody of his children after a nasty divorce. Another tells of a young girl being raped inside the tunnel and her body burned to prevent any evidence from being found. All versions of these legends end with the girl screams filling up the tunnel as she was burning to death."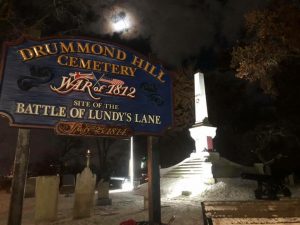 Next, we stopped by for an after-dark walk through the Drummond Hill Cemetery, a nationally-recognized heritage site. Now maintained by the City of Niagara Falls, this site "is most famously known as the battle grounds of the "Battle of Lundy's Lane", as well as the burial site of Laura Secord. Christopher Buchner purchased 400 acres of land from his father-in-law, James Forsythe, in 1799 and used the top of the hill as a burial ground. It later became the site of a fierce battle between the British and the Americans in 1814. The area became known as Drummond Hill, in honor of General Drummond."
After a day of wine sipping and ghost hunting, we were famished…so it was back to the hotel to freshen up for dinner (using another coupon from our package). My son and his girlfriend had recently visited Niagara Falls and had nothing but positive reviews for The Keg, a steakhouse overlooking the colorful falls. Apparently, there are more than 150 Keg locations throughout Canada, making it a popular high-end chain. While we didn't get one of the coveted and romantic semi-circle booth (because who would think we'd need reservations on the Tuesday before Thanksgiving)…we at least found a small table facing the floor-to-ceiling windows with limited views of the water. I already knew coming in what I was ordering: prime rib (rare) and an a la carte lobster tail. And, a nice hearty red wine of course.
Another brisk walk was in order following that meal…and with that, our mini-vacation was coming to an end. Will my travels take me back to Niagara Falls? Maybe, perhaps to walk the bridge to New York or to see spring awaken in a colorful and fragrant fashion. Or to explore some of the hiking trails or historic sites. As for the "neon" side of things, I outgrew those flashy bulbs decades ago (maybe that tweener in 1980 would have enjoyed that part a little more).
Safe travels!
For additional photos from this trip, check out this FACEBOOK ALBUM.